Culver City Public Theatre Unveils 'Children's Popcorn Theatre'
By Editor
from Culver City,CA
5/12/2004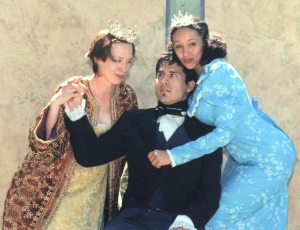 Culver City, California--The Culver City Public Theatre ('The Public') proudly announces an expanded schedule that will include delightful and entertaining productions geared for young audiences. The debut of the newly developed 'Children's Popcorn Theatre' commences with the 2004 Summer Season in Dr. Paul Carlson Memorial Park. Performances will run in tandem with The Public's mainstage season, announced earlier this spring, and admission will be Free for children of all ages.

The Public will inaugurate its new 'Children's Popcorn Theatre' series with Adele Thane's staged adaptation of the Brothers Grimm classic tale, "Rumpelstiltskin". The production will be produced by Culver City Public Theatre's co-Executive Directors Laura Neufeld, Kyle Nudo and Ken Kamlet. Mr. Nudo will direct.

In 'Rumpelstiltskin', a naive miller's daughter is forced to do the impossible – spin straw into gold. She makes a bargain with a strangely magical little man, and that bargain turns into much more than she expected. Excitement ensues and royalty, townspeople and other enchanting characters join together in a valiant attempt to help her solve a seemingly impossible riddle.

Mr. Kamlet explains, "It is very important that we develop audiences of today as well as those of tomorrow. When youngsters are exposed to theatre at an early age, they often develop a life-long appreciation of theatre and the arts and they usually excel scholastically, socially and civically as they grow into adulthood. Theatre ignites a child's imagination and instills a passion for dreaming that nothing else can in quite the same way. "

"Children's programming for us just makes sense," agrees 'Rumpelstiltskin' director Kyle Nudo, "The addition of the Children's Popcorn Theatre to The Public's scheduling is a natural evolution of our mission. A few years ago we discovered that our audiences were eager for something to take their children to. For children, that very first exposure to live theatre is a visceral experience as they witness a story that they love come to life before their very eyes."

Laura Neufeld, who is also Board President of Culver City Public Theatre, is particularly enthusiastic about the upcoming 2004 season, "The inclusion of children's programming to our summer season will continue The Public's tradition of presenting theatre that really enriches our audience's lives. This is not your ordinary theatre company, and I believe our selections year after year bring something more than is expected."

In addition to 'Rumpelstiltskin', The Public's mainstage season includes Noel Coward's 'Hay Fever', Henrik Ibsen's 'An Enemy Of The People' (adapted by Arthur Miller) and Anton Chekhov's 'The Cherry Orchard'.

Performances for the Children's Popcorn Theatre presentation of 'Rumpelstiltskin'are scheduled for weekend afternoons at Noon from July 24th through August 14th. All children must be joined by adults as The Culver City Public Theatre cannot take responsibility for unattended minors.

Culver City Public Theatre, which operates under a Letter of Agreement with Actors' Equity Association (the union of American theatrical actors and stage managers), continues an 18-year tradition of presenting an annual summer season of free, outdoor, classical theatre in beautiful Dr. Paul Carlson Memorial Park, located at the corner of Motor Avenue and Braddock Drive (near the 405 and 10 Freeways) in historic Culver City, CA. The public is invited to bring their lawn chairs and blankets to attend the productions that are intended for young and adult audiences alike.

The Public has experienced enormous artistic and financial growth during each year of operation. Its productions are attended by approximately 1,800 patrons each season.

Culver City Public Theatre is an incorporated, not-for-profit 501(c)3 organization that is sponsored by the Culver City Department of Parks, Recreation and Community Services and by the generous contributions and grants from the City of Culver City, The Culver City Parks and Services Foundation and Sony Pictures Entertainment. Additional funding comes from donations from local businesses and patrons.

For general information call (310) 712-5482 or visit the official website at www.CCPT.org.
<< back