Culver City Public Theatre Announces 2004 Summer Season
By Editor
from Culver City,CA
4/15/2004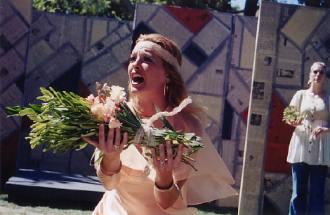 Culver City, California--The Culver City Public Theatre ("The Public") has proudly announced an expanded schedule for its 2004 Summer Season in Dr. Paul Carlson Memorial Park. The Public will offer its growing and loyal audience a diverse and entertaining season with a challenging mix of hilarity, suspense, heartbreak and a cascade of timely political intrigue.

Now entering its 6th season of bringing free, professional, classical theatre to Los Angeles-area audiences, The Public will kick off the summer with Noel Coward's much loved, delightful madcap comedy "Hay Fever". Mayhem ensues as the charming and eccentric Bliss family (headed by an overwhelming actress who can't leave her theatrics on stage) each invite a guest to their country home for a summer weekend. The visitors struggle to make sense of the bizarre antics and a hilarious game of romantic musical chairs ensues. Performances are scheduled for weekend afternoons at 2pm from July 10-25.

Director Alexander Wells, an audience favorite, returns for his fifth consecutive season having previously mounted The Public's memorable productions of "The Braggart Soldier", "Tom Thumb", the Italian Renaissance classic comedy "The Deceived" and last season's daring and well-received production of Sophocles' "Oedipus Rex".

Next, The Public will present Henrik Ibsen's "An Enemy Of The People", adapted by American theatrical icon Arthur Miller. In this explosive drama, a small town has just begun to win fame and wealth through its medicinal spring waters, but the resident physician discovers a life-threatening secret. An unforgettable tale of betrayal, greed, corruption and the courageous fight for truth, "An Enemy Of The People" reminds us that integrity and freedom of speech remain essential. Performances are scheduled for weekend afternoons at 2pm from July 31-August 8th.

Culver City Public Theater Co-Executive Director Ken Kamlet expressed enthusiasm for the selection of "An Enemy Of The People" for this season. "This production is particularly timely. Right now the ethics and moral values of both our political and business leaders are being examined and highly scrutinized by media and American citizens alike," he explained, "and 'Enemy' is a very powerful, exciting look at how these important principles have historically challenged society's very core." A director for this production will be announced soon.

And finally, The Public will round out its mainstage 2004 season with Anton Chekhov's timeless, wistful classic "The Cherry Orchard". The Public will present the Trevor Griffith adaptation of this humorous, passionate portrait of a disappearing way of life. A wonderfully eccentric, once well-to-do family faces the auction of their beloved estate. A businessman offers them a way out, but will the family be able to overcome its elegant quirks to act in time? Re-discover the grace and humor of this masterpiece of the modern theatre. Performances are scheduled for weekend afternoons at 2pm from August 14-29.

At the helm of this production will be Director Gregg W. Brevoort (www.GBrevoort.com). A member of The Public's Artistic Advisory Board, Brevoort has directed notable successes in New York City and around the country. His critically acclaimed productions have included "Angel Street", "Betrayal", "Redwood Curtain", "Scotland Road", "Waiting For Godot" and New York City's 50th anniversary production of "The Glass Menagerie". Mr. Brevoort is the former Artistic Director of New Jersey's Holmdel Theatre Festival. He directed Culver City Public Theatre's 2003 production of "All's Well That Ends Well" that was praised by media and audiences alike.

In addition to these mainstage offerings, Culver City Public Theatre will also be presenting a production for young audiences, under the newly developed CHILDREN'S POPCORN THEATRE. Details will be announced shortly.

The Public has broadened its scope by including the new children's programming, and by extending performance dates. "It has been stated to me by hundreds of patrons that it's such a shame that a company as wonderful as ours has only been able to offers its gift of free theatre for a mere six weekends each summer," explains Board Chairman Kyle Nudo, "This year we're at a fantastic place organizationally to be able to not only extend our summer season, but to present more shows than ever. It's a dramatic move, exactly what our audiences have been asking us to do for years."

The Public's Board President, Laura Neufeld, adds, "This year's season is full of exciting selections. We've never presented a piece from any of these celebrated playwrights. We've chosen plays that are very challenging for an outdoor-based theater. It will be a distinct pleasure - stretching our company's style in a way that brings these wonderful pieces to life. In our previous offerings, our selections have tended to stick to only a handful of styles of what is considered 'classical theatre' or even classical style when it comes to the craft of acting. It's simply exhilarating to me to be able expose our audiences to more and more forms of classical style, and performance."

Culver City Public Theatre continues an 18-year tradition of presenting an annual summer season of free, outdoor, classical theatre in beautiful Dr. Paul Carlson Memorial Park, located at the corner of Motor Avenue and Braddock Drive (near the 405 and 10 Freeways) in historic Culver City, CA. All performances are held during the summer on Saturdays and Sundays at 2:00 p.m. The public is invited to bring their lawn chairs and blankets to attend the productions that are intended for young and adult audiences alike.

The Public has experienced enormous artistic and financial growth during each year of operation. Its productions are attended by approximately 1,800 patrons each season.

Culver City Public Theatre is an incorporated, not-for-profit 501(c)3 organization that is sponsored by the Culver City Department of Parks, Recreation and Community Services and by the generous contributions and grants from the City of Culver City, The Culver City Parks and Services Foundation and Sony Pictures Entertainment. Additional funding comes from donations from local businesses and patrons.

For general information call (310) 712-5482 or visit the official website at www.CCPT.org.
<< back