CCPT Announces Neil Simon's 'The Good Doctor' 2007 Benefit Performance and Silent Auction
By Culver City Public Theatre
from Culver City,CA
3/11/2007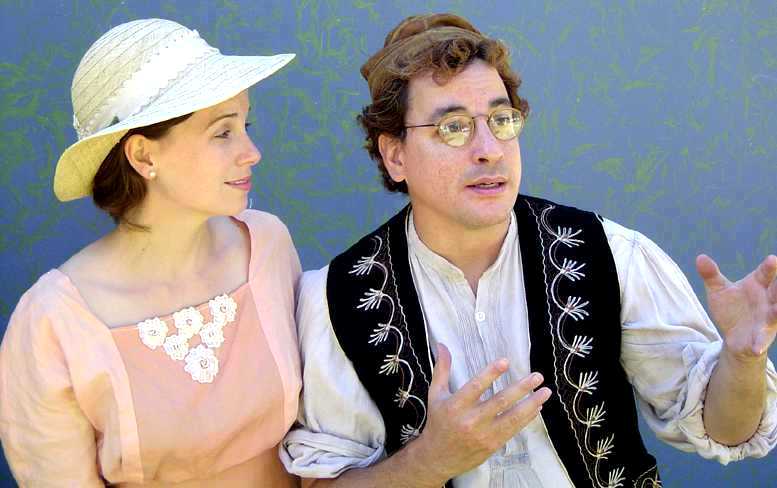 Culver City, California-- As Culver City Public Theatre ("CCPT") prepares to announce its 2007 summer season, it will proudly present a staged-reading benefit performance of Neil Simon's 'THE GOOD DOCTOR' in a special fundraising event which will also feature an exciting silent auction. Laugh as our narrator, a distinguished writer, leads you through stories including a sneeze that ruins a man's career, a visit to the dentist that goes comically awry, and a sweetly innocent woman who turns out to be quite a handful! The performance is scheduled for Tuesday evening, March 27th at 8:00pm at the historic Ivy Substation (9070 Venice Blvd) in the heart of Culver City. Admission is $50.00, which includes refreshments. Reservations can be made online at www.ccpt.org, by telephone at (310) 712-5482 or at the box office 30 minutes before the performance. Abundant parking is available nearby.

Founded in 1998, Culver City Public Theatre (an AEA LOA company) has enjoyed 8 consecutive, highly successful seasons of bringing free, professional, outdoor theatre to Los Angeles-area audiences at Dr. Paul Carlson Memorial Park. CCPT has experienced enormous growth each year, has become a popular attraction to more than 2,000 patrons each summer and has received critical acclaim for such productions as 'Electra', 'The Misanthrope' (L.A. Times 'Best Bet'), '3 By Shakespeare's Skum', 'Scapin', 'Hay Fever' and 'An Enemy of the People'. In 2006, ReviewPlays.com named CCPT's production of 'The Madwoman of Chaillot' as the Comedy of the Year.

'THE GOOD DOCTOR' features comic vignettes adapted from short stories written by Russian master Anton Chekhov and adapted for the stage by Neil Simon, one of the most successful and prolific playwrights in American history.

In selecting 'THE GOOD DOCTOR' for this presentation, CCPT pays homage to its own history -- in 1999, CCPT's first production was Simon's 'Fools' and in 2004 CCPT's offering of Chekhov's 'The Cherry Orchard' was lauded by audiences and media alike -- while staying in accordance with its ongoing mission of resurrecting important, yet under-produced works.

"Shamefully ignored, 'THE GOOD DOCTOR' is a wonderful mixture of comedy, drama, and musical", explains CCPT Board President Dean Edward. The Detroit Free Press has praised the play as, "Exceedingly funny, except when it breaks for the occasional moment of exquisite tenderness … ultimately, 'THE GOOD DOCTOR' is a love letter to the theatre."

Helming this production will be nationally recognized director, Gregg W. Brevoort (www.GBrevoort.com) who has previously mounted two of CCPT's most successful productions; 'All's Well That Ends Well' and 'The Cherry Orchard'. Mr. Brevoort is the former Artistic Director of New Jersey's Holmdel Theatre Festival and now leads CCPT's Artistic Advisory Board following a string of critically acclaimed productions for a number of highly-regarded venues throughout the country, including sold-out engagements of 'Betrayal' and 'Angel Street' (both for the Penobscot Theatre), 'Redwood Curtain' (Dorset Theatre Festival), 'Richard III' (The Barnstormers), 'The Glass Menagerie' (Off Broadway, New York City), 'Scotland Road' (Holmdel), 'Who's Afraid of Virginia Woolf?' (Mystic Bison, San Francisco), 'Coriolanus' (Texas Shakespeare) and 'Waiting For Godot' (in Alaska).

Recently, Mr. Brevoort was honored by the Theatre Communications Guild (TCG) with a nomination for the prestigious Alan Schneider Director of the Year national award.

Mr. Brevoort enthuses, "This is a terrific choice for a benefit performance because it showcases the range of talents and versatility of the CCPT Company."

Heading the cast is Ken Kamlet as the Narrator as well as Company Members Melissa K. Anderson, Eric Billitzer, Donna Donnelly, Dean Edward, Jennifer Lynn Jones, Steve Lekowicz and Janet Osborne.

In addition to funding CCPT's mainstage season, proceeds of this event will go toward instituting KEEP THEATRE ALIVE!, an educational program that will teach children the fundamentals of theatre production as well as continuing CCPT's Children's Popcorn Theatre, a highly successful branch of CCPT which offers live productions for young audiences in tandem with the mainstage season.

Culver City Public Theatre is an incorporated, not-for-profit 501(c)3 organization. Tickets and donations are tax-deductible to the fullest extent of the law.

Silent auction items will include an array of gift certificates to local businesses such as Sol Salon, Culver Ice Arena, Pavillions, The Massage Garage, Culver City Music Center, Pottery Plus, Trader Joe's and the Kitchen Store as well as autographed memorabilia such as a copy of the '40 Year Old Virgin' script autographed by actress Jane Lynch, the 'Match Poin't DVD autographed by Scarlett Johansson and the movie poster for 'Babel', autographed by Oscar nominated director Alejandro González Ińárritu.

Culver City Public Theatre is sponsored by the Culver City Department of Parks, Recreation and Community Services and by the generous contributions and grants from the City of Culver City, The Cultural Affairs Commission, The Culver City Parks and Services Foundation and Sony Pictures. Additional funding comes from donations from local businesses and patrons.

For general information call (310) 712-5482 or visit the official website at www.CCPT.org.
<< back