A Easter Sunday With Beautiful Rich Cultures
By Rudy Joe
from Echo Park, Los Angeles,CA
8/19/2003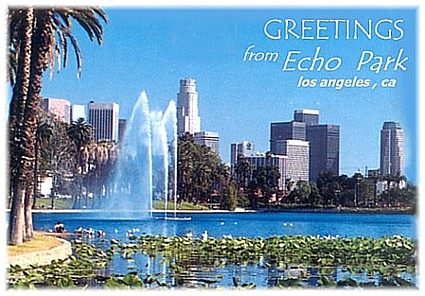 I live fairly close to this park thats between Echo Park and Dodger Stadium. I have spent many many many days there when it was somewhat different back in the day. It also did get its moderate share of families picnicing and all but the majority were mostly lots and lots of lowriders and its crowd. Things always got out of hand too so eventually the parks main stretch was cut off and turned into another area of the park. The "Oneway" just passed the Police Academy was also just resently partly closed off and filled and planted into a park area. It looks so different now, but i like it ok.

But anyway, i gotta tell you...I happen to drive through it on my way back from my favorite hangout Home Depot, when i saw for the first time in all these years...it was JAM PACKED,bigtime!!! I was in utter(moo) amazment! I never saw so many cars parked all the way from one end to the other and everything in-between as well!! I must have drove past with my jaw droped to the floor! People,people...EVERYWHERE, even in places i never thought possible!
What?..have you noticed a bit of excitement??

I though it was GREAT!! Everyone seeming to co-habitate, mingle, and just be at peace.To me thats very rare to see! No picture could capture that!(well ok, yes it can) but at least not by me even though i would try somehow!

You talk about crowded...man, it was like one hugh great big family party!!
So i slowly made my way past all the double parked-looking for a inch automobiles and once cleared and now all behind me as i pull up to my driveway, WOW! I wouldn't mind sitting down and try to express the wonder i witnessed and everything involved in doing so....but i didn't, i let it slip and fade away....
Until now.
Heres why....
The other day i went with a frind to go have a coffee down in the L.A. Metro Art District.
So theres these two cute girls were sitting at the outdoor table next to mine while my friend Mike goes to get us coffee, and one of them is reading the local paper. They got up to leave and left this paper thats called the something something Press (not the free one either).

So after a while i decide to reach over and browse thought it while doing nothing else much but enjoying my coffee while my friend Mike is having a conversation with a friend of his. I'm now flipping through the pages to see if theres anything of interest to me. Bam! There it was. A article on Elysian Park on that very Easter Sunday. I found myself reading with excitement only because everything this writer was saying was exactly what i myself had experienced while passing through.

If i was to have sat down and writen what this writer wrote, i wouldn't have changed a thing up to where he gets off into some other topic. I decided to share the writers thoughts on this small piece, knowing how much i was totally relating to what was said and wanting to share it for some reason.

Here is what was said:

Its Easter Sunday and Elysian Park is the place to be. Everyone is here - everyone.
The park is filled to bursting with humanity of every age, size, shape and color - Grandmas and toddlers, pregnant women and shy teenagers, entwining couples and birthday party screamers.
There are volleyball nets strung helter-skelter, soccer balls flying and hammocks looped over any available tree. Up on the hill, a roving band of 10 year olds is beating its way through the Elysian jungle with carefully chosen walking sticks.

Barbecues smoke with every kind of food imaginable. People are armed with charcoal, and they're not afraid to use it. Platters overflow with carne asada and roasted chicken. Asian and Middle Eastern spices waft by along with the unmistakable aroma of good old American Hot dogs.

The crowd mirrors the surrounding neighborhoods. Its a mostly Latino bunch - Mexican, Cuban, Salvadoran, Ecuadorian - but Korean, Chinese and Armenian, African American and Anglo Families dot the landscape as well.
Radios blare in Spanish and English, and a trio of Mariachis is winding its way down a rocky path, the quickest route into the park.

Theres a "Lowrider" convention (*as of the days of old) on the strip of Stadium Way between Academy and Scott Streets. The cars line up under the palm trees - Caddies that glow with brand new ice cream colors and chrome that sparkles like a silver-capped tooth. The proud owners idle nearby, but some of the toughest tatoos are playing ball with their 4 year olds.

I was sitting at home stuck for ideas on a column about diversity, so i decided to take a walk in the park to clear my head - and i have to laugh. Its all here! How to write about it? About the gloriousness of realizing that everything i could ever tell my daughter about a multitude of cultures is right outside our door. Anything i could say dwarfs in comparision to this incredible, bountiful chaos.

......I'm passing by the playground near Grace E. Simons Lodge. I don't think the climbing structure can hold one more kid. But there's no jostling going on - for the moment, everyone has his or her own little space. Its a corny metaphor for the world, but it makes me smile. (*me too)

Preoccupations about bigotry dissolve with the thought that, at least today, everyone is just hanging out....
In Elysian Park.

And i thought to myself, I couldn't have said all of this any better. Thanks Lisa!
<< back