Hilarious 'Scapin' Helps Culver City Public Theatre Cap Successful 5th Season
By Ken Kamlet
from Culver City,CA
8/11/2003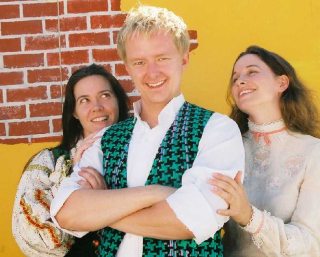 Culver City, California--A brilliant and mischievous servant who opens a can of slapstick on his masters, two lovesick young couples and a pair of cranky fathers all converge in "Scapin (The Scams of Scapin)" a hilarious, tour-de-force classic by Molière, the creator of French High Comedy.

With this production, Culver City Public Theatre (CCPT) concludes its highly successful 5th season of bringing free, professional, classical summer theatre to Los Angeles-area audiences. CCPT is currently enjoying a successful staging of the Sophocles' tragedy "Oedipus Rex" which followed a well-received, acclaimed run of Shakespeare's romantic comedy "All's Well That Ends Well". Performances of "Scapin (The Scams of Scapin)", appropriate for family audiences of all ages, are scheduled for the weekends of August 16-17 and 23-24 at 2pm in beautiful Dr. Paul Carlson Memorial Park.

Molière, perhaps the greatest of all comedic French playwrights, is historically renowned for his inventive satires, which frequently focus on the excesses and vices of the wealthy and respected. His more famous works have included "Le Tartuffe", "Le Misanthrope", "The School For Wives" and "The School For Husbands".

Staging this production is Douglas Green, an accomplished theatre and film director having helmed award-winning productions such as "Six Degrees of Separation" and "Company" for Theatre Palisades, "Babes and Brides" (Sanford Meisner Center for the Arts), "Sex and Violence" (Los Angeles Theatre Company) and "The Butler Did It" (Cabrillo Playhouse). His recent film "The Hiding Place" stars Oscar-winner Kim Hunter.

On the surface, "Scapin" is pure farce … silly, slapstick, old-fashioned. "But the more I dig into it, the more I find," exudes Green. "Beneath the romantic story, there's an undercurrent of fear, of intrigue, in which any crime can be blamed on 'foreigners,' when prejudices and misunderstandings abound. A world, and a time, very much like ours today."

Green adds, "I find a beautiful truth in this play. The lead character is a clever and impish servant who tricks and outwits his masters. He's shown up as everything from Figaro to Jeeves to Benson. But here, he reveals a great truth. When we fall in love, we want it to make open sense. We want it to be honest, good, based in truth and beauty. Scapin is that part of us. A villain, to be sure, who lives within us all, and without whom our lives would be hopelessly empty and dull."

CCPT President Laura Neufeld agrees with Green in describing this clever and unusual comedy as, "the timeless struggles of love vs. authority, impetuous youth vs. stale age … and pompous idiots vs. what's coming to them!"

Company member and Vice President Kyle Nudo has been tapped to portray the clever, delightful title character. An audience favorite, Nudo's many memorable performances for CCPT have included the title role in "The Government Inspector" and most recently as the dandy scoundrel Parolles in "All's Well That Ends Well". He is known to television audiences for his roles on "Melrose Place" and "Passions". The cast also features CCPT company members Tom Hyer and Markus Cummings.

The versatile Nudo has also designed the outdoor stage setting, costumes are by RoseMarie Fabiano and Alison Nesti. Colleen Gallion is the Assistant Director, text translation is by Albert Bermel.

Dr. Paul Carlson Memorial Park is located at the corner of Motor Avenue and Braddock Drive in historic Culver City, CA. All performances are held during the summer on Saturdays and Sundays at 2:00 p.m. The public is invited to bring their lawn chairs and blankets to attend the productions which are intended for young and adult audiences alike.

Culver City Public Theatre is sponsored by the Culver City Department of Parks, Recreation and Community Services and by generous grants from the City of Culver City and The Cultural Affairs Commission. Additional funding comes from donations from local businesses and patrons.
For general information call (310) 712-5482 or visit CCPT's official website at www.ccpt.org.
<< back