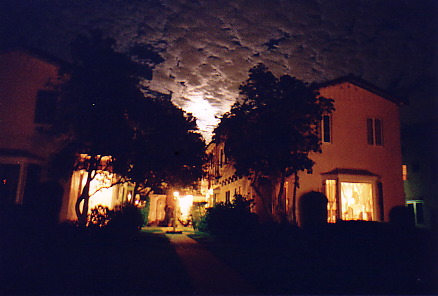 CHATEAU RODNEY

We called the building Chateau Rodney, even though the architecture was not the least bit French. It was a typical Los Angeles of the '20s apartment building, pseudo Spanish—Monterrey style with wooden balconies around a U shaped courtyard, arches, tiled roof, and stained glass windows. Rodney is the name of the street on which we lived in the Los Feliz district; Los Feliz is pseudo Spanish for "the happy ones."


What a stroke of luck and weeks of hard work it was to find the apartment. Even so, I had to go back and look two or three times more before signing the lease. The third time, after measuring for my Persian rug and grand piano in the living room, I sat on the closed lid of the toilet, looking at the old cracked 20's tile in gold and maroon, and cried with my head in my hands, huge sopping tears. This wasn't how my life was supposed to have turned out.


The total unexpectedness of renting this apartment blew me away. I never planned this in my future, and yet there I was. No one expected my husband to die so young, children would get scholarships to boarding schools far away, I would survive my own cancer, and now I would be alone.


I moved in, never seeing anyone else. I guessed about and glimpsed the neighbors, but our hours were different and we rarely crossed paths. That's normal in Los Angeles apartment life anyway.


The apartment had my requirements—a big living room, high ceilings, and places to walk to in my old neighborhood where I had lived all my adult life. I loved the old palm trees lining the street, so tall and stately, yet leaning when the Santa Anas blew. They knew how to survive. I loved how they looked from my balcony at sunset, how the sun caught the tips of the frilly fronds and made them appear on fire. Their silhouettes against the orange western sky were just like on postcards, yet it was in front of where I lived in downtown Los Angeles.


Still, moving in was a shock. All my stuff, at least the stuff I'd saved in storage after my house sale, didn't fit. The tiny kitchen had no room for the refrigerator, which had to go on the back porch. The apartment was like a doll house, a miniature version of my old house a few blocks away in era, style, details, that it seemed to mock the loss of my old life.


It was lonely at first. Most of the tenants were in the industry and toured or worked odd hours and we zigged and zagged around each other back by the garages as we came and went.


But after a while something special happened at Chateau Rodney. Somehow the beauty of the architecture and the vibrations of the history and the energy of all the people who lived there during the decades caused a weird phenomenon to occur among all of us, the building's tenants—we bonded.


I think it started with my birthday in March. I wanted to have a get-together of my old friends but since the apartments were so small, Marita next door volunteered to co-produce the party and people could flow between our two units. She didn't have a rug over the hardwood floor, and so we could dance there.


When they heard of the party plans, Joe and Daryl thought it would be fun to celebrate the Spring Equinox, and would I mind if they invited a few friends? The idea caught on around the building. Luckily Mitch was back from his musical tour, Aimee's family was visiting her from San Francisco, and Steve and Jessica loved any excuse to haul out their gas barbeque.


Party night found 150 people in and out of all six apartments, the courtyard full of wine, beer and soft drinks in tubs of ice, tables laden with potluck food, twinkle lights and chinese lanterns strung everywhere around the balconies, across the courtyard, and through the trees.


There were three pianos in the six apartments and music and singing segued from one to the other, often with professional friends of Mitch singing old torch songs around one piano or another. Speeches were spoken from various balconies, and strangers were in and out of all six bathrooms.


Marita had made me a cake, and there I was blowing out the candles, while a hundred people I didn't know sang Happy Birthday.
After that night, we knew we had something there at Chateau Rodney, and what it was was, the beginning of a family.


We had solstice/equinox gatherings every quarter, went river rafting together, took fieldtrips to the theater and art galleries, did communal gardening projects. We watched each other's cats. We approved and disapproved of each others' dates and love affairs.


Whether it was a Thanksgiving potluck, Christmas carols around the barbeque, Easter brunch with an egg hunt, cocktails in the courtyard, or just a gripe session, you could always find a hug or a cold beer. Because I was the oldest, and also maybe because I was the only one with a day job, I was the official Mom of us all.


Emailing each other from the other side of a wall, simply yelling someone's name when needing to talk, joking about knocking doorways through so that all the apartments connected from the inside.


Each big party inspired new ideas during the post mortems. Let's do a Romeo and Juliet night with spotlights on the roof, moving between the balconies, highlighting famous scenes from Shakespeare with the audience watching from the courtyard below. Hey, next Christmas let's rent a snow machine!


When Princess Diana died, we made an altar.


Daryl and Marita saw me crying one night after my mother died. They burst in the unlocked door to comfort me.


We supported each other in the good and the bad times.


How can I write about this without sounding schmaltzy? I couldn't even tell people at the time because no one who never saw it with their own eyes could believe it. The magic was there—is probably still there--just when I needed it the most. The convergence of the planets or whatever over Chateau Rodney allowed me to carry on with my life shattered by circumstances.


The building sold last year and we were forced to go our separate ways: Steve and Jessica rented another apartment a block away but without charisma, Marita, Daryl and Joe bought houses in the Valley, Aimee went back to San Francisco, Mitch moved to New York, and I went to Mexico to live in San Miguel de Allende. But not before seriously discussing out in the courtyard how we could pool our resources to buy the building and live there forever.


But none of us will ever forget, or be able to undo, the magic of Chateau Rodney in our lives. Living there, in that Shangri La or sometimes Brigadoon (no one parties with or even knows their neighbors in L.A.!), was just what I needed. What we all needed. We went with the flow, and prospered. We were the "Las Felices" of the Los Feliz district of Los Angeles, and we knew it.


Probably those parties are still going on there in the courtyard, even if no one can see them.
<< back